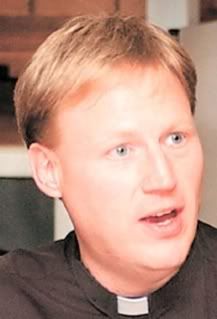 Robert Timchak
La policia del este de Pennsylvania arresto al sacerdote catolico Robert Timchak de 43 anos,acusado de pornografia infantil.Este sacerdote catolico al igual que el actor Cubano que personifica a "Dona Concha",Adonis Losada en el programa "Sabado Gigante" de Don Francisco fue acusado y arrestado por pornografia infantil.
Fuente: ABC News, http://abclocal.go.com/wpvi/story?id=7073321&section=news/local
MILFORD, Pa. (AP) - October 20, 2009 -- A Roman Catholic priest from eastern Pennsylvania is accused in a child pornography case after police searched his computers.
The Rev. Robert Timchak surrendered to state police on Monday. He was arraigned in Milford on 19 charges, including possessing child pornography and tampering with evidence.
Authorities say the Diocese of Scranton received an anonymous letter last year alleging that someone using Timchak's e-mail address had accessed child pornography.
Story continues below
Advertisement
Advertisement
Police who searched Timchak's computers say he attempted to delete pictures of nude or partially nude males.
Timchak was granted a leave of absence in April. His attorney, John Petorak, says the 43-year-old priest is staying at a counseling facility in Downingtown.