Otro sacerdote catolico, esta vez en Ottawa ,Canada es procesado por pornografia infantil.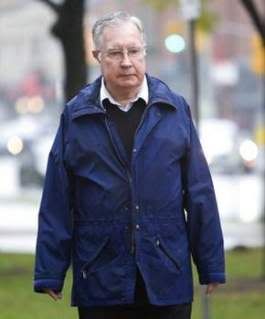 Fuente:http://www.squamishchief.com/article/GB/20091009/CP02/310099941/-1/SQUAMISH/bishop-gets-new-bail-conditions-on-child-porn-charges&template=cpart
Fuenta:http://www.ottawasun.com/comment/columnists/michael_coren/2009/10/03/11266041-sun.html
October 9, 2009
Terry Pedwell, THE CANADIAN PRESS
OTTAWA - A Catholic bishop facing child pornography charges will live among other priests in a quiet neighbourhood as he awaits trial.
On Friday, a judge granted Raymond Lahey's request to live in Ottawa until his trial begins, after residents in the New Brunswick town where he was staying complained about his presence.
Faced with the prospect of having nowhere to live, Lahey pleaded with the local Roman Catholic Archdiocese this week to take him in, Ottawa Archbishop Terrence Prendergast said in a statement.
"When Bishop Raymond Lahey called our diocesan offices on Wednesday afternoon, he was facing very few - practically no - options with respect to a residence in Ottawa," said Prendergast.
"In Christian charity, and believing that it was the action that the Lord would want us to take, I have accepted that he stay at our priests' residence.
"I thank the priests of our residence for their generous spirit in receiving him in their midst."
Lahey resigned last month as bishop of the diocese of Antigonish, N.S., after he was charged with possessing and importing child pornography in Ontario.
His next court appearance is scheduled for Nov. 4.
The bishop will be monitored closely while in Ottawa, and anyone he may come in contact with will be made aware of his strict bail conditions, said police Det. Dan Melchiorre.
"A lot of (the bail conditions) have to do with the Internet, computers," Melchiorre told reporters after Lahey's brief court appearance.
"Obviously there's other conditions in there about being with children under the age of 18."
Lahey surrendered his passport to police Friday and will have to report to authorities every two weeks, beginning Oct. 17.
The bishop was charged after border agents at the Ottawa airport discovered graphic sexual images of young boys on his laptop computer as he was returning from an out-of-country trip Sept. 15.
The decision to lay charges against the bishop was not made lightly, said Melchiorre.
He described how investigators determine whether a criminal offence has occurred as they sift through computer images downloaded from the Internet.
"The Internet is vast, and (people) may come across one image that is potentially illegal," said Melchiorre.
"I'm not saying that is good, but I'm saying it can happen. And it's up to us to investigate to make sure that in these cases that there's no doubt in our mind that the issue is the charges are sustainable in court."
Prendergast said allowing Lahey to live at the archdiocese was difficult.
"I am aware, of course, of the serious charges pending against Bishop Lahey," he said.
"I am also aware of how this matter has deeply saddened and shaken our Catholic brothers and sisters, including those of us in ordained ministry."
A search warrant used to probe Lahey's laptop computer revealed how customs officers found several sexually explicit images of boys believed to be as young as eight years old while the bishop was detained at Ottawa's airport.
The document said customs officers became suspicious when Lahey avoided eye contact, and was evasive when officers asked him whether he was carrying a laptop.
Border officials flagged Lahey because he was a man travelling alone and his passport showed several trips to Southeast Asia, where several countries are known for child pornography.